Peaty's x Chris King MK2 Tubeless Valves
32,00 EUR26,67 EUR Excluding VAT
---
The best just got even better
---
Product variant
80mm navy
In stock > 1 pc
32,00 EUR26,67 EUR Excluding VAT
80mm black
In stock > 1 pc
32,00 EUR26,67 EUR Excluding VAT
✅ twelve Chris King colour options
✅ Spoke key cap
✅ valve core remover cap
✅ Made from 7075 aluminium
✅ Valve for life guarantee
✅ Insert Compatible base
✅ Smoked black valve core
✅ 42mm, 60mm OR 80mm length
✅ Replaceable rubber base
✅ Fits all tubeless ready rims
With design, sustainability & quality running right to the core, there's only one company we could work with on our valve colours - chris king! with our valves for life guarantee and their stunning colourways your bike is in for a real treat for years to come!
???? MK2, WHAT'S NEW?
Still made Made from lightweight anodised 7075 aluminium as standard, our new mk2 tubeless valves are now compatible with all rim inserts and come with a spoke key cap as well as a valve core removal cap.
That's Right ... The best just got even better!
???? VALVES FOR LIFE
If you manage to break, snap, bend or crack our valves* then we'll fix or replace them free of charge!
⚔️ INSERT COMPATIBLE BASE
THE ADDITION OF A UNIQUE FOUR-WAY X-CUT BASE TO ENABLES OUR VALVES TO NOW WORK WITH ALL TYRE INSERTS.
THE CHANNELS CUT INTO THE BASE OF THE VALVE ALLOW AIR AND SEALANT TO PASS THROUGH WHEN INSERTS ARE PUSHED UP AGAINST THEM.
UNLIKE MOST OTHER INSERT-COMPATIBLE VALVES, OUR VALVES HAVE A 'STRAIGHT-THROUGH' DESIGN SO THERE'S NO REDUCTION OF SEALANT OR AIR FLOW WHEN TYRE INSERTS ARE NOT USED.
ALL OF THIS WITH NO ADDED WEIGHT!


???? Spoke key cap
Our MK2 valves now come with a WORLD-FIRST SPOKE KEY Presta valve CAP!
THE spoke KEY IS SIZED FOR STANDARD 3.4MM SPOKE NIPPLES AND IS THE PERFECT TOOL FOR TIGHTENING LOOSE SPOKES IN TRAILSIDE EMERGENCIES.
To use, simply unscrew the cap, slot your spoke through the gap in the top of the cap and slide down the spoke until the cap fits over your spoke nipple.
Not sure how to true a wheel? Here's a how-to from Santa Cruz Syndicate Mechanic Jedi Tom Duncan
???? Valve Core Remover cap
WHETHER YOU'RE IN THE WORKSHOP OR OUT ON THE TRAIL, OUR VALVE CORE REMOVER CAPS HELP TO QUICKLY REMOVE THE VALVE CORE To DEFLATE THE TYRE OR TOP UP WITH SEALANT.
TO de-core the valve, all you need to do is:
Unscrew the valve cap
Slot the valve cap over the valve core
Twist anticlockwise until the core can be pulled out
Repeat in reverse to refit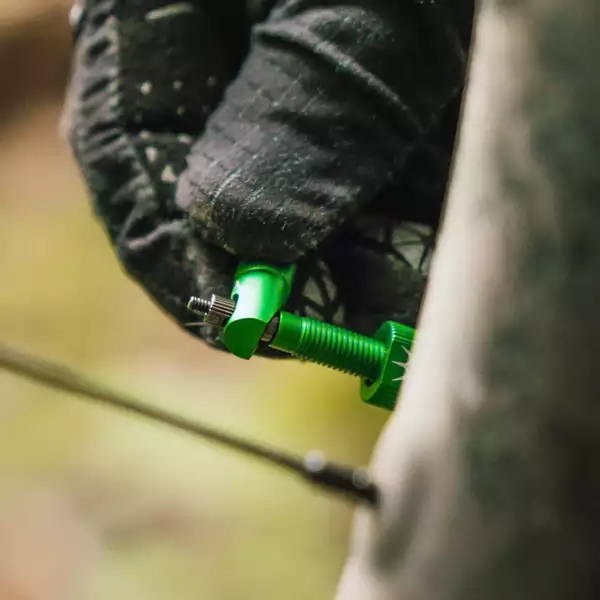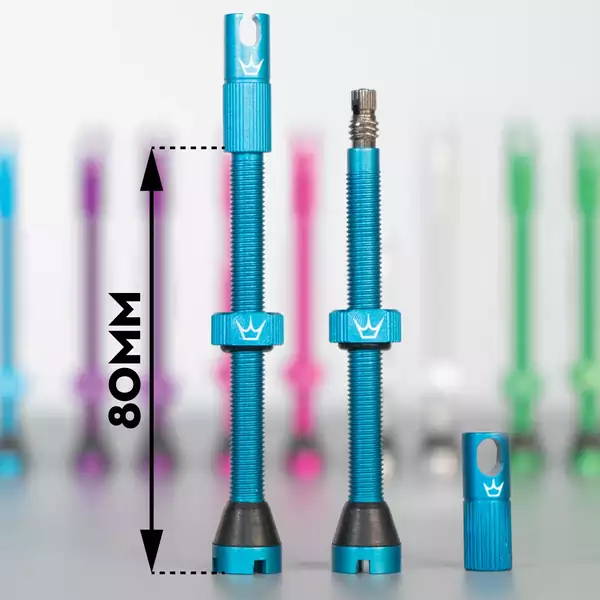 ???? What Size?
Our MK2 valves come in 42mm, 60mm and 80mm lengths. This means that whatever the depth of your rim, we have valves to fit your needs.
As a rough guide, We recommend:
MTB, Urban and XC Rims: 42mm
Road Rims: 60mm
Deep Section Road Rims: 80mm
Always Measure your rims before purchasing or contact your Rim manufacturer for further recommendations.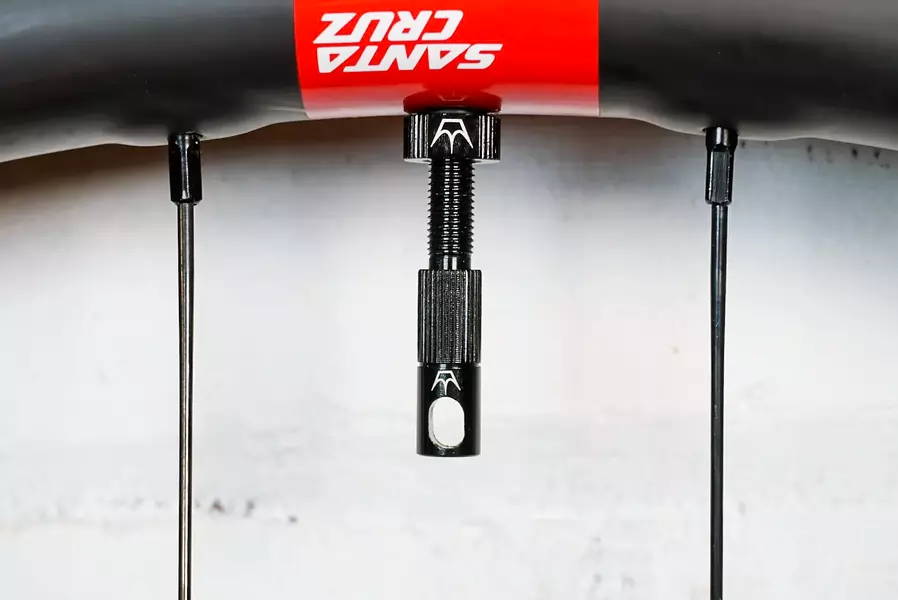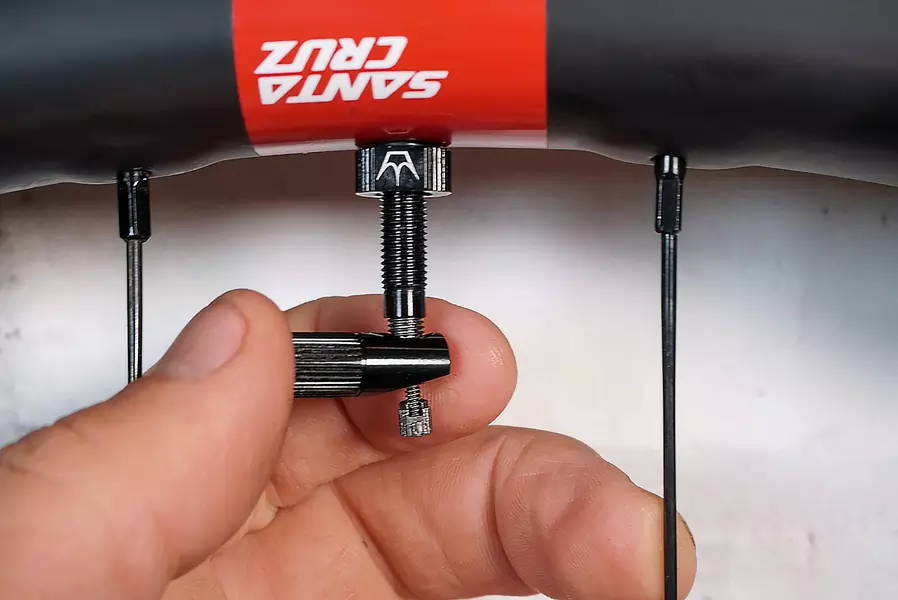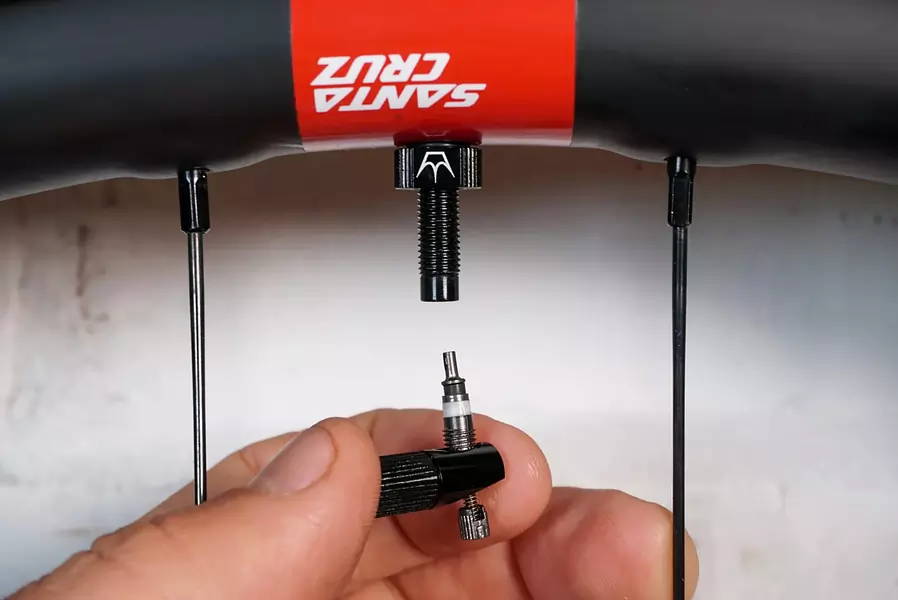 ????️ FITTING INSTRUCTIONS:
Remove valve cap, o-ring and lock nut
Insert valve through valve hole in rim
Push the o-ring onto valve stem
Thread the lock nut onto valve stem
Hand tighten lock nut until firm
Screw on valve cap
Ok so there's a few conditions. Valves are warranted for life to the original owner only. valves will be replaced like-for-like (same colour / same length).
valves will not be warranted in the following situations:
If they have snapped or threaded from being over-tightened

If they have clogged with sealant

If they have been intentionally broken

If parts have been lost
The return process is easy - simply fill out our warranty form here and we'll get back to you asap. Please ensure you have a photo or PDF of your proof of purchase and photos of your damaged valves ready to send us.
You can now mix and match the colour of your valve stem with contrasting lock rings and caps with our new Accessory Kits. Check them out here